Artist Bio
Born and raised in Townsville and now residing in Brisbane, Gabrielle Tito's works are fun and festive portrayals that merge splendid and exuberant floral arrangements against vibrantly coloured geometric motifs. Whilst inspired considerably by an abiding love of antiques, retro furnishings and vintage design, her Diploma in Interior Design chiefly influences and informs her utilisation of colour, as well as the composition of elements and objects within her works. Deriving stimulus from the many species of native botanicals and bird life present in and around the Brisbane metropolitan area, she is equally enamoured by the floral and still life depictions produced by other Australian artists.
Having developed her artistry through an extensive degree of experimentation and a relinquishing of her creative inhibitions, Gabrielle began painting steadily in 2018, as a mechanism to cope with the grief that accompanied her mother's passing. Commencing the creative process with initial pencil sketches that assist in establishing the works' preliminary structure, the patterned aspects of each piece are typically determined first, prior to deciding which florals will balance and compliment the selected design. An avid collector of vintage vases, crockeries and linens, and particularly attracted to their clashing yet classical colour schemes, these items appear frequently within Gabrielle's works, which are exclusively executed in acrylics on canvas.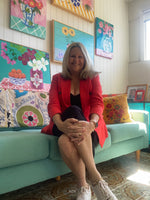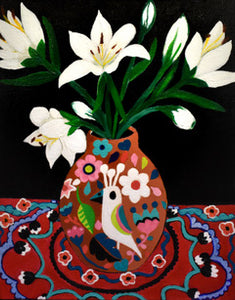 "Call me Colourful"
Beautiful prints available through www.gussydup.com
Inspired by the wonderful home of @faithkalson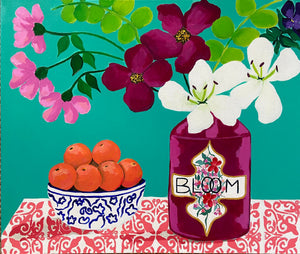 "Bloom"
Finalist in Art to Art unearthed 2022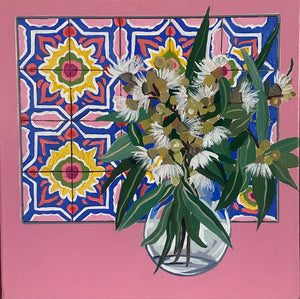 Hummingbird The shop
Hummingbird The shop Paddington Brisbane
Reviews
What if creativity was the current contagion? Check out these beauties by Brisbane's @gabrielletitoart thx Gabe

Ainsley
They are perfect!! Can't wait to get frames for them now. Thanks so much Gabe

Kirsty
Thank you for my phone case and little painting. I love them both!!

Coralee
You made me cry with joy, I absolutely love it.

Trudy
So much love for this artwork and for the artist! absolutely adore it! Such a great experience, would definitely buy from Gabrielle again.

Amanda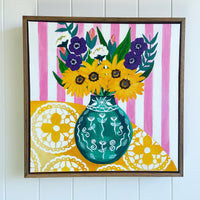 Shipping and framing
Domestic shipping - $10 local delivery or happy for you to pick up
I have a flat rate - $15 or $25 express
International shipping - paintings will be sent unstretched and in a tube. Please message me for further information and pricing.
I'm happy to have paintings framed, contact me for further information.